Project Management: General Contracting
StroyCity has been working as a general contractor since 2012. The company is a member of the non-profit partnership with "Independent Omsk Region Constructor Union" organization. StroyCity is entitled to the following:
entering of contracts as a primary contractor at the amount up to 10 bln. rubles;
construction management, renovation and overhaul project permit as a primary general contractor.
StroyCity also has a substantial package of voluntary permits, including ISO 9001:2008 certificate issued by PCBC S.A. concerning the compliance with international standard in respect of a general contract management:
Primary StroyCity projects as a contractor
| | |
| --- | --- |
| Customer | Gazprom Neft Shelf, LLC |
| Object name and location | Technical re-equipment of the water treatment and reservoir-pressure maintenance systems of the Prirazlomnaya offshore ice-resistant fixed platform (phase 1), Varandey, Nenets Autonomous Okrug, Barents Sea |
| Fulfilment period | August 2022 – November 2024 |
| Type of works | Set of operations: modular structures design, manufacture and assembly, as well as commissioning works |
| | |
| --- | --- |
| Customer | Gazpromneft-ONPZ, JSC |
| Object name and location | Complex for the production of aromatic hydrocarbons (aromatics production complex), phase 3.1, section 300, located on the territory of Gazpromneft Omsk Oil Refinery, JSC |
| Fulfilment period | August 2022 – February 2025 |
| Type of works | Set of operations: construction and assembly of process pipelines and equipment, commissioning works |
| | |
| --- | --- |
| Customer | Gazprom-ONPZ, JSC |
| Object name and location | Effluent facilities of Gazprom-ONPZ, JSC. Mechanical cleaning unit, Off-site utilities |
| Fulfilment period | June 2021 – November 2023 |
| Type of works | Installation of process pipelines (water supply and sewerage networks, heating networks, basic construction and installation, mechanical installation, commissioning) |
| | |
| --- | --- |
| Customer | Gazpromneft-ONPZ, JSC |
| Object name and location | "Effluent treatment facilities. Tank blocks. Substructures" situated within the territory of the operating plant Gazpromneft-ONPZ (JSC) |
| Fulfilment period | November 2018 – November 2023 |
| Type of works | Complex of construction and assembly works and start-up procedures on a turnkey basis of three tank farms; tanks volume range of 100 m3-20 000 m3. |
| | |
| --- | --- |
| Customer | Gazprom-ONPZ, JSC |
| Object name and location | Reconstruction of the delayed coking unit 21-10/3М (2nd and 3rd stages) (preparation period) (DCU) |
| Fulfilment period | August 2020 – October 2022 |
| Type of works | Mounting tanks, process pipelines, equipment, corrosion protection of the process pipelines, changing and laying water supply and sewerage pipelines, general construction works |
| | |
| --- | --- |
| Customer | Gazprom-ONPZ, JSC |
| Object name and location | Replacement of motor truck scales in the equipment fleet |
| Fulfilment period | October 2021 – July 2022 |
| Type of works | General construction works, erections of metal structures, and equipment assembly |
| | |
| --- | --- |
| Customer | Gazprom-ONPZ, JSC |
| Object name and location | Repair and replacement of engineering utilities at the off-site facilities, Technical Control Laboratory, Chief Power Engineer Department, Administrative Economic Department and Commercial Production Department |
| Fulfilment period | May 2021 – August 2021 |
| Type of works | Replacement of industrial pipelines (engineering utilities and heat distribution network) |
| | |
| --- | --- |
| Customer | Gazpromneft-ONPZ, JSC |
| Object name and location | Technical re-equipment and partial replacement of the Aromatic Hydrocarbons Production Complex (KPA) (to insure the acceptance of benzene concentrate L-35/11-600), Gubkina Ave, 1 |
| Fulfilment period | July 2020 – November 2020 |
| Type of works | Construction, assembly and commissioning works on site |
| | |
| --- | --- |
| Customer | Gazpromneft – Catalytic Systems, LLC |
| Object name and location | Laboratory and Analysis Complex, key production facilities and off-site facilities within the territory of the operating plant. Works in the Catalyst Testing Engineering Center |
| Fulfilment period | June 2020 – April 2021 |
| Type of works | Complex of construction and assembly works for the Center construction, including removal of utility networks, lightning pole installation, temporary power supply and utility networks installation |
| | |
| --- | --- |
| Customer | Gazpromneft – Catalytic Systems, LLC |
| Object name and location | Laboratory and Analysis Complex, core production facilities and off-site facilities within the territory of the operating plant. Substructure and utilities. Initial-stage works |
| Fulfilment period | December 2019 – February 2021 |
| Type of works | Earthworks, piled foundation works |
| | |
| --- | --- |
| Customer | Gazpromneft-ONPZ, JSC |
| Object name and location | Re-equipping oil tanks P-15 and P-16 for storage of winter diesel fuel for the needs of Gazpromneft-ONPZ, JSC |
| Fulfilment period | November 2019 – June 2020 |
| Type of works | Complex of construction and assembly works and start-up procedures, dismantling and mounting equipment and pipelines |
| | |
| --- | --- |
| Customer | Gazpromneft-ONPZ, JSC |
| Object name and location | Arranging filtering circuit for filtering low-viscosity marine fuel |
| Fulfilment period | November 2019 – May 2020 |
| Type of works | Complex of construction and assembly works and start-up procedures, equipment mounting |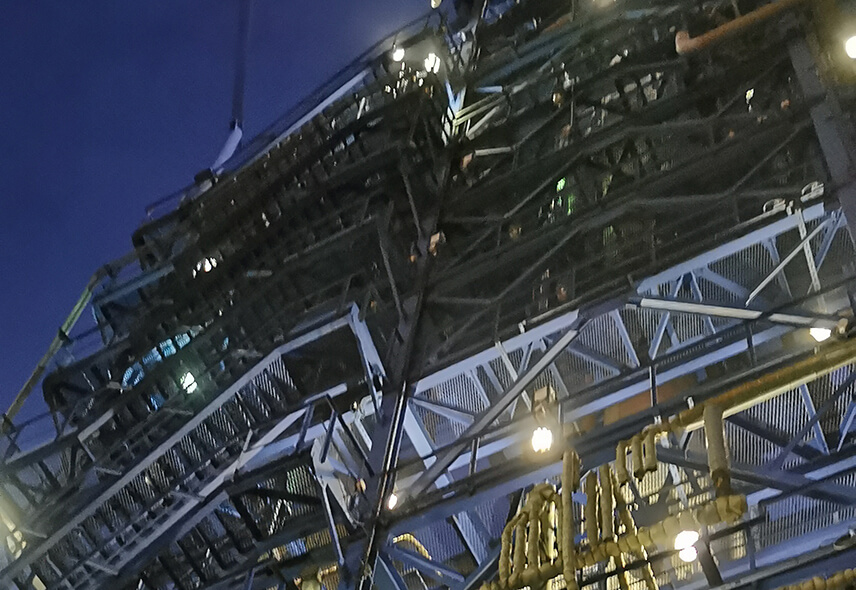 | | |
| --- | --- |
| Customer | Gazpromneft-ONPZ, JSC |
| Object name and location | Sulfuric acid alkylation installation (25/12) Facilities No. 2 |
| Fulfilment period | September 2019 – October 2019 |
| Type of works | Repair of process equipment and pipelines during shutdown maintenance |
| | |
| --- | --- |
| Customer | Gazpromneft – Catalytic Systems, LLC |
| Object name and location | Laboratory and Analysis Complex, core production facilities and off-site facilities on the territory of the Gazpromneft-ONPZ (JSC) operating plant |
| Fulfilment period | August 2018 – June 2019 |
| Type of works | Disassembly of building structures, underground utilities and metal structures. Complex of construction and assembly works and start-up and commissioning operations |
| | |
| --- | --- |
| Customer | Gazpromneft-ONPZ, JSC |
| Object name and location | Replacement of outmoded equipment. Facilities No. 2. Upgrading the building of the combined operator room No. 1 (ZhM No. 84455) |
| Fulfilment period | July 2018 |
| Type of works | Complex of construction and assembly works and start-up procedures, equipment and C&I mounting |
| | |
| --- | --- |
| Customer | Transneft – Zapadnaya Sibir, JSC |
| Object name and location | Main pumping station "Barabinsk", located on the Barabinsk pipeline remote pumping station (Barabinsk, Novosibirsk region) |
| Fulfilment period | February 2019 – September 2019 |
| Type of works | Construction and installation works including construction/dismantling of temporary buildings and structures. Exploration of foreign pipelines and nets crossing. On-site testing of diagnostic devices passing ability. Start-up and commissioning operations. Participation in complex testing of systems and equipment. |
| | |
| --- | --- |
| Customer | Gazpromneft-ONPZ, JSC |
| Object name and location | Replacement of worn-out equipment. Connection of pumping technological block-box to water and power supply systems, PCS and turnkey communication networks on the territory of the Gazpromneft-ONPZ, JSC operating plant |
| Fulfilment period | May 2018 – March 2019 |
| Type of works | Design and survey works and construction and installation works including reconstruction, modernization and technical re-equipment of the facility. Industrial safety examination, registration of positive safety expert review in Rostekhnadzor, author's supervision services provision |
| | |
| --- | --- |
| Customer | Gazpromneft-ONPZ, JSC |
| Object name and location | Temporary helipad on the territory of the Gazpromneft-ONPZ (JSC) operating plant |
| Fulfilment period | June 2018 – August 2018 |
| Type of works | Complex of construction and assembly works and start-up and commissioning operations on a turn-key basis at three helipads, three parking areas and roads. Landscaping and gardening of the area of 8 hectares using roll and sown lawn |
| | |
| --- | --- |
| Customer | Gazpromneft-ONPZ, JSC |
| Object name and location | On-spot loading rack-2 on the pipe welding station-2 on the territory of the Gazpromneft-ONPZ, JSC operating plant |
| Fulfilment period | June 2017 – October 2018 |
| Type of works | Development of the railroad facilities of the enterprise. Construction of non-public railway tracks for the on-spot loading rack-2 at the pipe welding station-2 of Gazpromneft-ONPZ, JSC. Construction of quiescent rail road-track scale at the on-spot loading rack-2 of Gazpromneft-ONPZ, JSC (construction, installation, commissioning works) |
| | |
| --- | --- |
| Customer | Gazpromneft-SM, JSC, OZSM |
| Object name and location | Technical re-equipping. Renewal of reservoir No. 779 in the depot No. 1131. Unit No. 37/1-4" in the branch plant of Gazpromneft-SM, LLC, OZSM located at the Gazpromneft-ONPZ, JSC operating plant |
| Fulfilment period | June 2017 – December 2017 |
| Type of works | Dismantling, assembly, construction, insulation, chemical protection, electrical installation works, external water and sewerage lines and wastes disposal |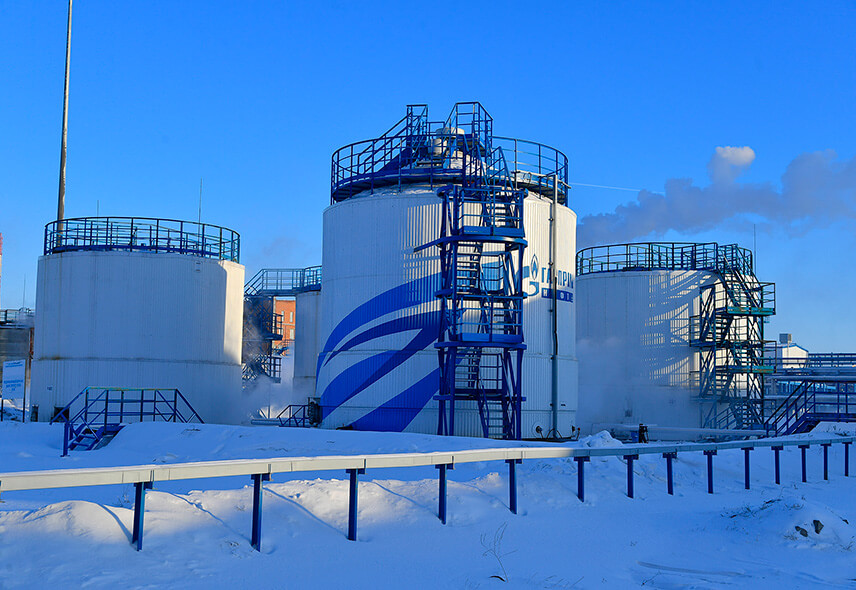 | | |
| --- | --- |
| Customer | Gazpromneft-SM, JSC, OZSM |
| Object name and location | Technical re-equipping. Renewal of reservoir No. 854, 855 in the depot No. 193, reservoir No. 883 in the depot No. 1133 TF-3 in the branch plant of Gazpromneft-SM, LLC, OZSM |
| Fulfilment period | June 2017 – December 2017 |
| Type of works | Dismantling, assembly, construction, insulation, chemical protection, electrical installation works, external water and sewerage lines, control and measuring devices and automatic equipment, process control system, and wastes disposal |
| | |
| --- | --- |
| Customer | Transneft – Zapadnaya Sibir, JSC |
| Object name and location | Trunk pipeline pump station of pipeline remote pumping station "Omsk". Construction. Equipment for trunk pipeline pump station No. 2. Replacement of main pump units No. 1, 2 and 3. Omsk Regional Oil Pipeline Management. Pipeline remote pumping station "Omsk". Technical re-equipment located on the Omsk pipeline remote pumping station (Omsk) |
| Fulfilment period | April 2017 – November 2017 |
| Type of works | Construction and installation works (dismantling, installation of pipelines and pumping units) including the construction/dismantling of temporary buildings and structures; diagnostic devices testing; commissioning work including individual and functional testing |
| | |
| --- | --- |
| Customer | Gazpromneft-ONPZ, JSC |
| Object name and location | Treatment unit of regeneration gases of catalytic cracking (works on demolition/dismantling of capital facilities and transfer of out-door plumbing system networks) on the territory of the Gazpromneft-ONPZ, JSC operating plant (Omsk, Gubkin Ave., 1) |
| Fulfilment period | March 2017 – July 2017 |
| Type of works | Dismantling of equipment and piping with partial saving of equipment and building constructions (potassing pumping house, foundations, compressor house), ferroconcrete fume stack 100 m high element-by-element (with 2 m rings) using diamond carving and lorry crane Liebherr LTM 1500 |
| | |
| --- | --- |
| Customer | Gazpromneft-SM, LLC, OZSM |
| Object name and location | Reconstruction of installation 36/1-1 for the production of softening oils like IDAE on the Gazpromneft-SM, LLC, OZSM operating plant. |
| Fulfilment period | September 2016 – December 2016 |
| Type of works | Dismantling of existing equipment and buildings, general construction works, mechanical installation works (technological equipment and piping), electrical works, instrumentation and control equipment, plant floor system, pre-commissioning activities, equipment supply. |
Customer
Omskiy kauchuk, PJSC
Object name and location
Technical re-equipping of carbolic acid/acetone production section 101-105 located in the Omskiy kauchuk, PJSC operating plant.
Fulfilment period
May 2016 – July 2019
Type of works
1. Workshop 101-105.
Demolition of the existing equipment supporting structure and foundation in view of pit excavation. Demolition works of the pump station on the axes 19-24 AB. Construction of new equipment supporting structures and foundations. Ground injection.
Working period: May 2016 – September 2017

2. Control room.
Preparation works (land works, crushed-stone bed and cement bed). Construction of the foundation plate MP-1. Construction of walls and columns. Construction of the floor slab panel MP-1. Installation of blastproof doors.
Working period: October 2018 – July 2019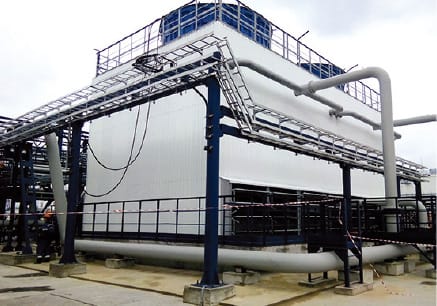 | | |
| --- | --- |
| Customer | Gazpromneft-SM, JSC OZSM |
| Object name and location | Local water unit for de-asphalting plants 36/1-1, 36/13, and 36/3-4 located at the Gazpromneft-ONPZ, JSC operating plant Gazpromneft-ONPZ, JSC |
| Fulfilment period | October 2015 – December 2016 |
| Type of works | Construction of pile bases, water supply and sewerage, cooling towers, industrial building, process pipe racks. General construction, electrical installation, construction and installation work. Equipment supply, start-up and commissioning works, installation of ventilation and heating systems, installation of water supply and sewerage networks, process pipelines and equipment installation, automation |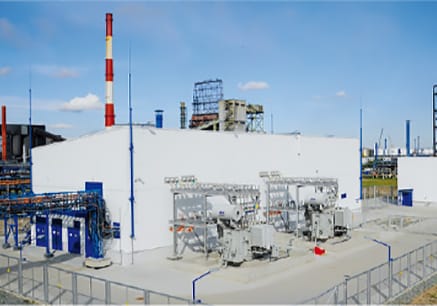 | | |
| --- | --- |
| Customer | Gazpromneft-ONPZ, JSC |
| Object name and location | GPE-6N (construction and installation commissioning activities) located at the Gazpromneft-ONPZ, JSC operating plant |
| Fulfilment period | April 2015 – February 2016 |
| Type of works | Electric and general construction works, installation of ventilation and heating system, of water supply and sewerage networks, industrial pipelines and equipment, automation |
| | |
| --- | --- |
| Customer | Gazpromneft-ONPZ, JSC |
| Object name and location | Reconstruction of installation CT 1/1 of section 100/200/300/400 on the Gazpromneft-ONPZ, JSC operating plant |
| Fulfilment period | March 2015 – September 2015 |
| Type of works | Preparatory works, pile works, ground works, installation of monolithic instrument room, steel constructions installation, finishing works, electrical works, installation of water supply and sewage networks |
| | |
| --- | --- |
| Customer | Gazpromneft-ONPZ, JSC |
| Object name and location | Water unit for installations VAC-4 and 5 located at the GazpromneftONPZ, JSC operating plant |
| Fulfilment period | February 2014 – June 2015 |
| Type of works | Preparatory works, pile works, ground works, installation of concrete and ferroconcrete monolithic constructions, steel constructions and industrial pipelines installation, finishing works, electrical works, installation of water supply and sewage networks, instrumentation and control equipment |
| | |
| --- | --- |
| Customer | Gazpromneft-ONPZ, JSC |
| Object name and location | Water unit for installations 43/103 located at the Gazpromneft-ONPZ, JSC operating plant |
| Fulfilment period | Апрель 2014 – декабрь 2015 г. |
| Type of works | Preparatory works, pile works, ground works, installation of concrete and ferroconcrete monolithic constructions, steel constructions and industrial pipelines installation, finishing works, electrical works, installation of water supply and sewage networks, instrumentation and control equipment |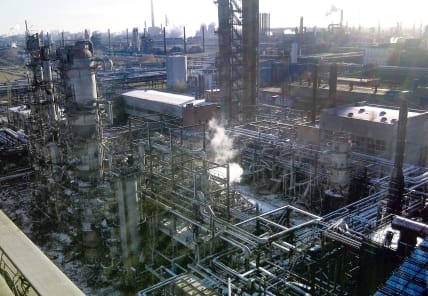 | | |
| --- | --- |
| Customer | Gazpromneft-ONPZ, JSC |
| Object name and location | Installation of hydrocracked VGO on the Gazpromneft-ONPZ (JSC) operating plant |
| Fulfilment period | October 2013 – May 2014 |
| Type of works | Dismantling of factory buildings, chimney, process pipe racks, reactor blocks, benches, tank farm, flare |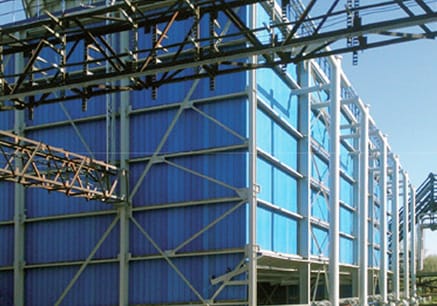 | | |
| --- | --- |
| Customer | Gazpromneft-MNPZ, JSC |
| Object name and location | Section No. 16. Cooler No. 5 on water unit No. 5 located on the territory of the Gazpromneft-ONPZ, JSC operating plant |
| Fulfilment period | October 2013 – April 2014 |
| Type of works | Construction and assembly of cooler steel constructions |
| | |
| --- | --- |
| Customer | Gazpromneft-ONPZ, JSC |
| Object name and location | Plant office building, site improvements on the Gazpromneft-ONPZ, JSC operating plant |
| Fulfilment period | August 2013 – September 2015 |
| Type of works | Decoration works, electrical works, heating radiators and fire alarm system replacement, facade repairing. Construction of underground water supply lines and canalization |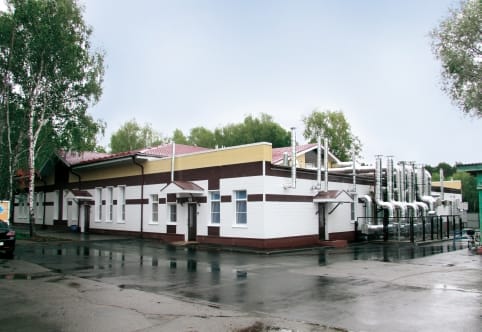 | | |
| --- | --- |
| Customer | Gazpromneft-ONPZ, JSC |
| Object name and location | Objects of social and domestic sphere. D.M. Karbyshev Recreation Centre. Omsk region, Krasnoyarka village. |
| Fulfilment period | May 2013 – May 2014 |
| Type of works | Reconstruction of canteen building, bedroom building and club building |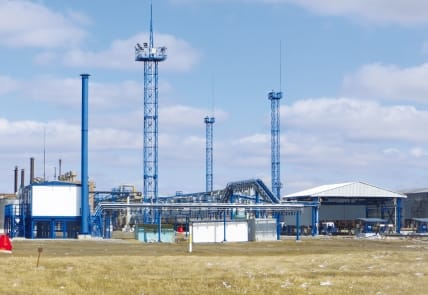 | | |
| --- | --- |
| Customer | Gazpromneft-ONPZ, JSC |
| Object name and location | Track scales on pouring dock tit. 8501 TSB-1 for weighting four-axle railway wagons located at the Gazpromneft-ONPZ, JSC operating plant |
| Fulfilment period | April 2013 – October 2013 |
| Type of works | Installation of piled foundations, cable tray systems, floodlight towers, railway track and railway scales, landscaping, technological process control |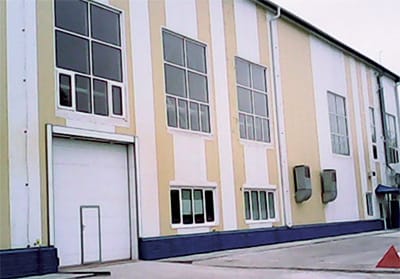 | | |
| --- | --- |
| Customer | Omskiy kauchuk, PJSC |
| Object name and location | Reconstruction of nitrogen and oxygen station and reconstruction of air separation section on the Omskiy kauchuk, PJSC operating plant |
| Fulfilment period | December 2012 – June 2014 |
| Type of works | Construction of piled foundation, installation of WSS networks, construction of foundations, steelwork erection, assembling of sandwich panels, brickwork of internal partitions, flooring, landscaping |